Positive Pay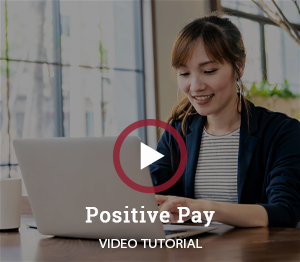 Positive Pay is a powerful tool for safeguarding your business against check fraud. Protect your business against altered, forged and counterfeit checks before the money leaves your account!
Discover the advantages of enrolling your business checking account in Positive Pay!
Features & Functions include:
Automatically compares checks presented for payment to issued check files in real time.
Sends alerts when a mismatch occurs via automated email notifications so you can quickly decide whether to pay or return items within Positive Pay.
Online check image viewing allows you to view the front and back of check images for exceptions and paid checks.
Transaction reports which enable you to review check activity.
First Commerce Bank believes in a proactive approach to fraud prevention by offering the most current fraud prevention tools available to keep your business accounts safe.
$35.00 Monthly Fee for each account enrolled in Positive Pay service.